Laboratory of Parasitology and Infectious Disease
JIVAN (Jiva-Vijnan-Anweshan-Niketan) — Centre for Research in Biological Sciences, RKMVERI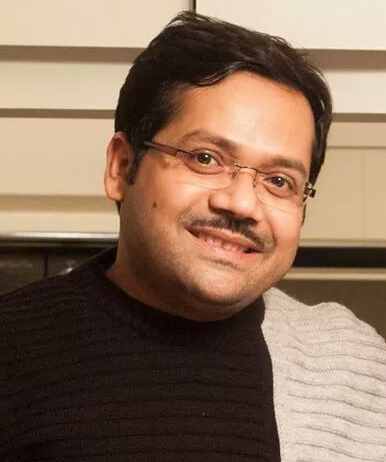 Dipak Manna
Ramalingaswami Fellow
Department of Biomedical Science and Technology
School of Biological Sciences, RKMVERI
Ramakrishna Mission Ashrama, Narendrapur, Kolkata 700103
West Bengal, India
Contact:
Email:
Research Interests
Developmental studies of protozoan parasite Entamoeba
Transcription regulation in stress response
Development of rapid, low-cost, point-of-care diagnostic kit for Entamoeba and free-living Amoebae
Ongoing projects
Characterization of mechanistic function of the encystation-specific transcription factor ERM-BP in Entamoeba and identifying drugs against Entamoeba cyst.
Research Interests in details
Characterization of mechanistic function of the encystation-specific transcription factor ERM-BP in Entamoeba.

During my Postdoctoral work I had identified a novel transcription factor, ERM-BP (Encystation Regulatory Motif Binding Protein) that plays a crucial role in stage conversion in Entamoeba invadens. This transcription factor ERM-BP is unique to Entamoeba and has a great potential as a drug target to prevent the encystation. Since only the cyst form can be transmitted from one host to another, blocking encystation would prevent new infections, making the encystation pathway an attractive target for the development of new drugs.

Development of rapid, low-cost diagnostic kit for Entamoeba

There is no rapid test technology or point-of-care diagnostic kit available in the market for the detection of E. histolytica. So, there is a need in developing low-cost, rapid detection methods for the detection of Entamoeba. In recent time, due to COVID-19 pandemic there are lot of progress happening in terms of the development of new diagnostic kit for rapid and accurate detection of SARS CoV-2 variants. We proposed the repurpose of the technology for rapid, low cost, accurate and point-of-care detection of E. histolytica; first, by adapting paper strip-based FnCas9-CRISPR diagnostic and second, a paper strip-based point-of-care diagnostic by using a recombinant antibody Fab fragment specific for E. histolytica.

An alternative method for introducing plasmid DNA into Entamoeba.

Here, we are dealing on a new, cost effective and an alternative method to transfect the plasmid DNA in Entamoeba which may enhance the research on this organism. Transfection is a method that introduce the foreign DNA into cells to study the gene function, regulation and protein function. In the process of introducing DNA in Entamoeba via an alternative method, we have utilized the use of transformed bacterial cells (DH5-alpha) containing our desired plasmid (pEi-CK-myc-Luc). Here, the bacterial cells are treated in such a way that cells must be died, not lysed and plasmid should be intact and the reason behind this treatment is to limit the bacterial growth when they are co-incubated with amoeba in the same media and consequently will give the opportunity to amoeba cells to engulf the bacteria which in other terms results in the introduction of our desired plasmid.

Detection deadly free-living amoebae by Lateral Flow Assay:

We are developing a rapid, low cost and accurate detection of free-living amebae from water bodies by developing a multiplex PCR system followed by a strip-based lateral flow diagnosis for rapid and accurate detention. Capture of the dsDNA hybrid amplicons on the dipsticks by using Biotin-labeled complementary probes and streptavidin followed by detection with rERM-BP/CNPs conjugate. CL: control line; TL1: test line 1 for N. fowleri; TL2: test line 2 for A. castellanii and TL1: test line 3 for B. mandrillaris.
Recent Publications
M, MK Marcoliono*, P Morgado*, D Manna*, H Yee and U Singh (2021). Development of CRISPR/Cas9 system in Entamoeba histolytica: proof of concept. International journal of parasitology. (20)30312. (*Equal contribution).
D Manna*, G Ehrenkaufer*, Amado DL* and U Singh (2020). Entamoeba stage conversion: progress and new insights. Current Opinion in Microbiology. 58.(* Equal contribution).
M Sharma, P Morgado, H Zhang, G Ehrenkaufer, D Manna, G Ehrenkaufer and U Singh (2020). Characterization of extracellular vesicles from Entamoeba histolytica identifies roles in intercellular communication that regulates parasite growth and development. Infection and Immunity. 88(10).
D Manna, Amado DL, G Ehrenkaufer and U Singh (2020). The NAD+ responsive transcription factor ERM-BP functions downstream of cellular aggregation and is an early regulator of development and heat shock response in Entamoeba. Front Cell Infect Microbiol. 10, 363.
H Zhang, V Tran, D Manna, G Ehrenkaufer, U Singh (2019). Functional Characterization of Entamoeba histolytica Argonaute Proteins Reveals a Repetitive DR-Rich Motif Region That Controls Nuclear Localization. mSphere. 4 (5), e00580-19
D Manna and U Singh (2019). Nuclear Factor Y (NF-Y) Modulates Encystation in Entamoeba via Stage-Specific Expression of the NF-YB and NF-YC Subunits. mBio. 10 (3), e00737-19
D Manna, CS Lentz, GM Ehrenkaufer, S Suresh, A Bhat and U Singh (2018). An NAD+-dependent novel transcription factor controls stage conversion in Entamoeba. eLife. 7, e37912
Scientific reviewer positions
PlosOne
Scientific Reports
Parasites & Vectors
Frontiers Cellular and infection microbiology
Drug Design, Development and Therapy
Infection and Drug resistant
OncoTargets and Therapy
Therapeutics and Clinical Risk
International Journal of Nanomedicine
Teaching Experience
Epidemiology
Food Biotechnology
Downstream Processing
Genetics
Proteomics
Post-graduate/Under-graduate Supervision
I am looking for postgraduate students for supervising in the field of Parasitology and Infectious Disease. Highly motivated students with CSIR/UGC NET or any other own fellowship having a background in Microbiology/ Biotechnology/ Physiology/Zoology, or any other allied disciplines are welcome to contact at 
Present Members-
Shreyasee Hazra (Project Assistant) [2021- present]